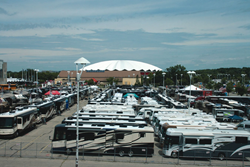 Cincinnati, Ohio (PRWEB)
July 10, 2015
A small city on wheels will take shape as the owners of some 2,000 motorhomes converge on the Alliant Energy Center in Madison July 29 through August 1 for FMCAs 92nd Family Reunion and Motorhome Showcase.
During the event, which has been dubbed Escape to Wisconsin, attendees will participate in various activities designed to enhance the motorhome lifestyle.
School may be out for the summer, but learning opportunities will abound. Organizers have scheduled more than 100 educational sessions aimed at helping motorhome owners glean more enjoyment from their RVs. RV experts will conduct seminars during the event. Topics range from motorhome chassis maintenance to microwave-convection cooking.
Attendees also will be able to tour motorhomes of all types, sizes, and price ranges as part of the Motorhome Showcase. Looking for a diesel-powered motorhome with all of the latest luxuries? Or maybe a van-chassis-based RV that provides all of the amenities needed to enjoy life on the road, but in a smaller package? Explore these options and everything in between as you consider what would best suit your travel style.
Other organized activities include tours of local attractions, fun-filled games, and musical performances each evening. And attendees will have time for plenty of socializing with their fellow motorhome owners.
Members of the general public are invited to join the fun. For those who want to view only the motorhome exhibition, admission costs $ 7 per day; children 12 and under are admitted free with an accompanying adult, as are those with an active military ID. Those who would prefer to take in the exhibits and also attend seminars and entertainment may purchase a Daily Passport, which is available for $ 75 per person ($ 65 for FMCA members).
Hours for viewing the motorhome exhibits are as follows: special viewing of motorhome exhibits only Wednesday, July 29, from 5 to 8:30 p.m.; regular hours for the motorhome displays will be 9 a.m. to 5 p.m. Thursday, July 30, through Saturday, August 1. Components/accessories displays first open on Thursday, July 30, with hours from 9 a.m. to 4 p.m. that day and on July 31 and August 1.
RV owners are invited to take part in all of the activities and also to bring their RV and stay with the rest of the group at Alliant Energy Center. Attendees may opt for 50-amp (limited) or 30-amp electric hookups, or may choose to rely on their motorhomes onboard resources and dry camp.
Potable water and dump station facilities are available at Alliant Energy Center, or roving trucks will provide these services for a fee to those who want to keep enjoying the activities and not stop for housekeeping issues.
The price for non-FMCA members is $ 265; this fee automatically grants the RV owner a one-year FMCA membership and/or a one-year subscription to Family Motor Coaching magazine. The FMCA member price is $ 215. (An additional fee is charged for electric.)
For additional information, visit FMCA.com or call (800) 543-3622.
About Family Motor Coach Association Enhancing The Motorhome Lifestyle

Family Motor Coach Association (FMCA) is an international organization for families who own and enjoy the use of self-contained, motorized recreation vehicles known as motorhomes. The association maintains its national headquarters in Cincinnati, Ohio, and currently has nearly 75,000 active member families. FMCA offers its members a number of benefits, including a subscription to its monthly magazine, Family Motor Coaching; a medical evacuation and travel assistance program valued at $ 105 per family; group rates on a roadside assistance program and on motorhome and auto insurance; discounted rates for RV tours and caravans; and a tire purchasing program. Perhaps the most important benefit of FMCA membership is the camaraderie and friendships that develop among people enjoying the common interest of motorhome travel and recreation. The organization can be reached at (513) 474-3622 or (800) 543-3622 and on the Web at FMCA.com.