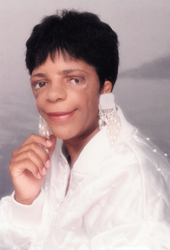 Hollywood, CA (PRWEB) June 19, 2015
The Necklace Production is pleased to announce its new crowdfunding campaign, which launched on June 11. Led by Patrice Edwards, the campaign seeks to raise funds for a full-length feature film about a woman who moves into a haunted house and doesnt realize it until its too late.
This will be the first full-length feature horror movie directed by a black, disabled female filmmaker, says Edwards, who has Treacher Collins syndrome (TCS). I want to prove to the world that I possess the knowledge it takes to make a film.
Edwards has long worked to overcome others perception of her disability. TCS is an extremely rare disorder, found in only about one in 50,000 births. Craniofacial deformities are characteristic of the condition, including absent cheekbones, downward-slanting eyes, a small lower jaw, conductive hearing loss, drooping lower eyelids, and malformed or absent ears. Edwards was born with TCS, including sunken cheeks and microtia ears that affect her hearing.
When Edwards arrived in Hollywood to pursue her dream, she was dismayed by her reception. She found lookaphobia, lookism, and lookists to be commonplace, and it has been a fight for her to be taken seriously. Shes grown tired of her abilities being doubted and continues to fight to prove herself.
When Edward filmed her first project in 2012, she had difficulty communicating with the actors and crew because only one of them knew any sign language. On top of that, her hearing aid was broken. However, she was able to overcome the challenges, thanks to her perseverance and the kindness of her actors, and the project was a success. WITCH, a low-budget short film, was written, produced, and directed by Edwards. To watch the films trailer, visit: https://www.youtube.com/watch?v=nrfR9L3vhkU
Edwards hopes that her inspiring story and groundbreaking project will garner the support needed to reach The Necklace Productions funding goal. As she makes the film, shell vlog about it daily. I want people to see exactly how far their contributions will go, she says.
Those who contribute will receive a DVD copy of WITCH and have the chance to participate in film history. To donate to the breakthrough project, visit: http://www.gofundme.com/wrhquc
About The Necklace Production

Led by Patrice Edwards, a disabled African-American filmmaker, The Necklace Productions first project was a short film called WITCH, produced in 2012. It is currently raising funds for its debut full-length feature film.

Visit Patrice Edwards page on IMDB: http://www.imdb.com/name/nm4545142/